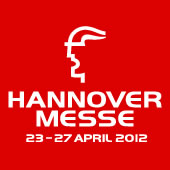 On 23-27 April 2012 in Hannover, Germany the world's leading trade fair for industrial technology were held - Hannover Messe 2012 - International Trade Fair for Industrial Technology, Innovation and Automation. Fulfiling the innovative task is one of our main goals therefore we couldn't miss such a significant event!
Hannover Messe is the event that creates ultimate connection between conferences, expositions, lectures and shows. Leading topic of this year's Hannover Messe was 'greentelligence' and the heading country become China as a dynamic leader in worldwide technological branch.
Main feature of this year's trade fair was Metropolitan Solutions platform, which presented innovative solutions and newest technologies for city infrastructure.
As part of HANNOVER MESSE following Trade Fair were held:
Industrial Automation - Automation systems for industrial buildings and production ,
Digital Factory - Integrated Industrial Process',
Energy - Energy industry,
Research & Technology - Research and development accomplishments,
MobiliTec - Alternative propolusion systems for vechicles and mobile plants,
Industrial Supply - Industry of the future - production process' from raw materials to goods,
Coil Technica - coils, transformers and electric engines,
Industrial Green Tec - Environment technologies.
In ELPRO-7 we put great pressure on continuous development to increase our services' quality. Hannover Messe Trade Fair is new and inspiring experience for us, whereby we would like to carry our innovative task even better.